Social media or email marketing – which one offers the most bang for my digital marketing buck? This is asked by many a business leader and digital marketer in Kenya and Africa. The answer, of course, is not as simple as one or the other.
"It's dead," became a familiar email marketing refrain when social media started to gain traction in Kenya and throughout Africa. Indeed, we've heard it all before – like when SMS marketing was hot and then suddenly got interrupted by instant messaging when WhatsApp arrived at scale. Even then, the overarching conclusion that email was dead, became more or less the norm.
In the context of email marketing, there also seems to be consensus that Millennials – a generation of consumers with some of the highest spending power in the marketplace – 'live' on social media and are therefore not really on email. This, however, couldn't be further from the truth!
Connecting with Africa's Millennials is as simple as email. Studies have shown Millennials have an affinity for email which actually surpasses that of previous generations. They are more likely to scan their email, take more time to read it and to show it to others. Following in the Millennials' footsteps, Generation Z also seems to have a strong affinity for email.
When all is said and done, not only is email alive, it has become the number one direct channel for daily use and consumer preference for personal, marketing and business communication. Email is very far from being outdated and going forward, will continue to play a pivotal role in digital marketing.
The takeaway: To convert customers – use email. Email marketing offers brands the opportunity to convert leads to sales by nurturing relationships more directly.
While social media has globally been growing at an exponential rate over the past decade, Africa has seen an even steeper growth arc. Platforms like Facebook and Instagram are exploding on the continent thanks to its fast-growing emerging population.
Since social media is readily accessible – especially on mobile devices – in Africa, it has a massive engagement capacity compared to email marketing. Social media users are therefore more likely to share a branded post than forwarding an email, potentially giving brands the opportunity to reach new customers who previously couldn't be targeted.
It goes without saying, when creating a buzz around your brand in Africa, social media is the most effective channel. A channel which is also great for growing an audience and ultimately a community around your brand(s).
The takeaway: To engage – use social media. Social media has the advantage when it comes to forming deeper relationships with consumers in your target audience.
It shouldn't be a choice – brands in Africa can integrate email marketing and social media for exponentially greater marketing results. The two channels are just different ways of reaching and engaging customers and prospects while complementing each other based on their unique strengths. Here are some ways in which brands can extend their consumer touch points by integrating email marketing and social media:
Grow your social media following or get more shares by sending an email that reads something like:

Social media can drive a lot of traffic to your website. Once there, make it easy for potential customers and consumers to subscribe to your email list or to actually buy a product or service online.
Run a competition or special offer on your social media channels to grow your email subscriber list by making an email address a requirement to enter or qualify.
Schedule email and social media campaigns to launch and run concurrently.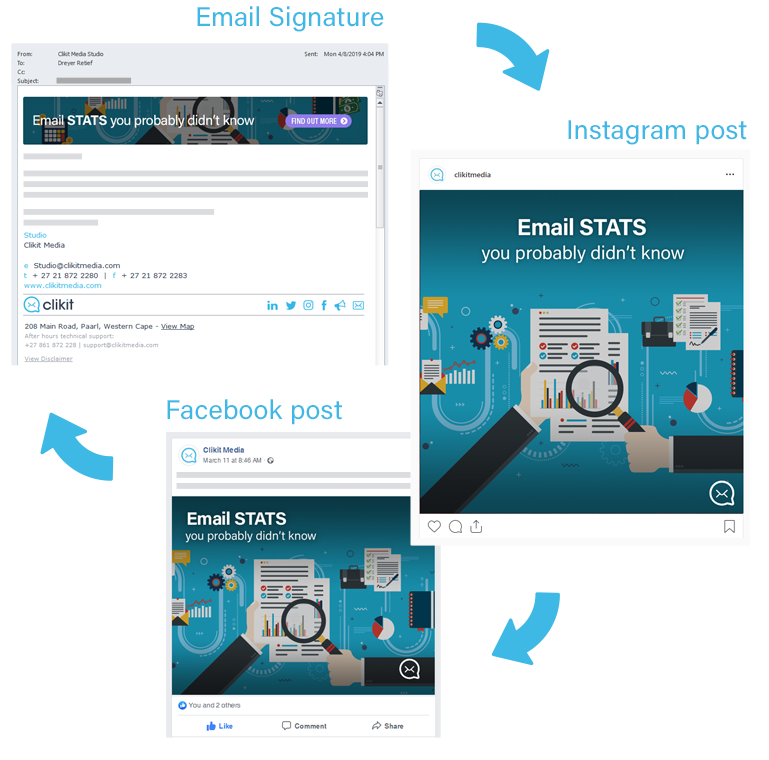 Gaining insight about customers' views of your products and services in the comments sections of your social media posts supply valuable information which can be applied to tailor your marketing communications to 'fit' customer needs and expectations.
Make sure your email subscription links are on all of your social media channels and vice versa.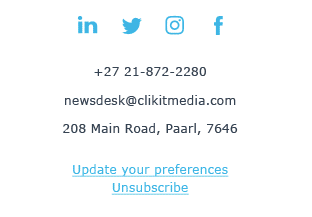 Having social media share buttons on your email newsletters and promotions allow you to reach a wider audience.


Combining email marketing and social media will result in stronger bonds with your customers.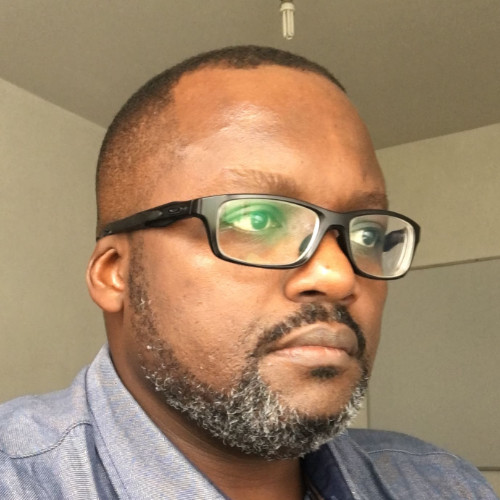 Founder and CEO of Dotsavvy, a leading digital marketing agency based in Nairobi, Kenya that delivers high impact digital marketing solutions for a diverse range of business customers. Dotsavvy is the East African partner for Clikit Media's innovative email signature marketing offering.